On May 24th, 2023 a Lunch & Learn Webinar was held on 10 Reasons Your Funeral Home is Losing Shopper Calls 
This Webinar was Complimentary for FCCFA Members and over 20 Attendees Tuned in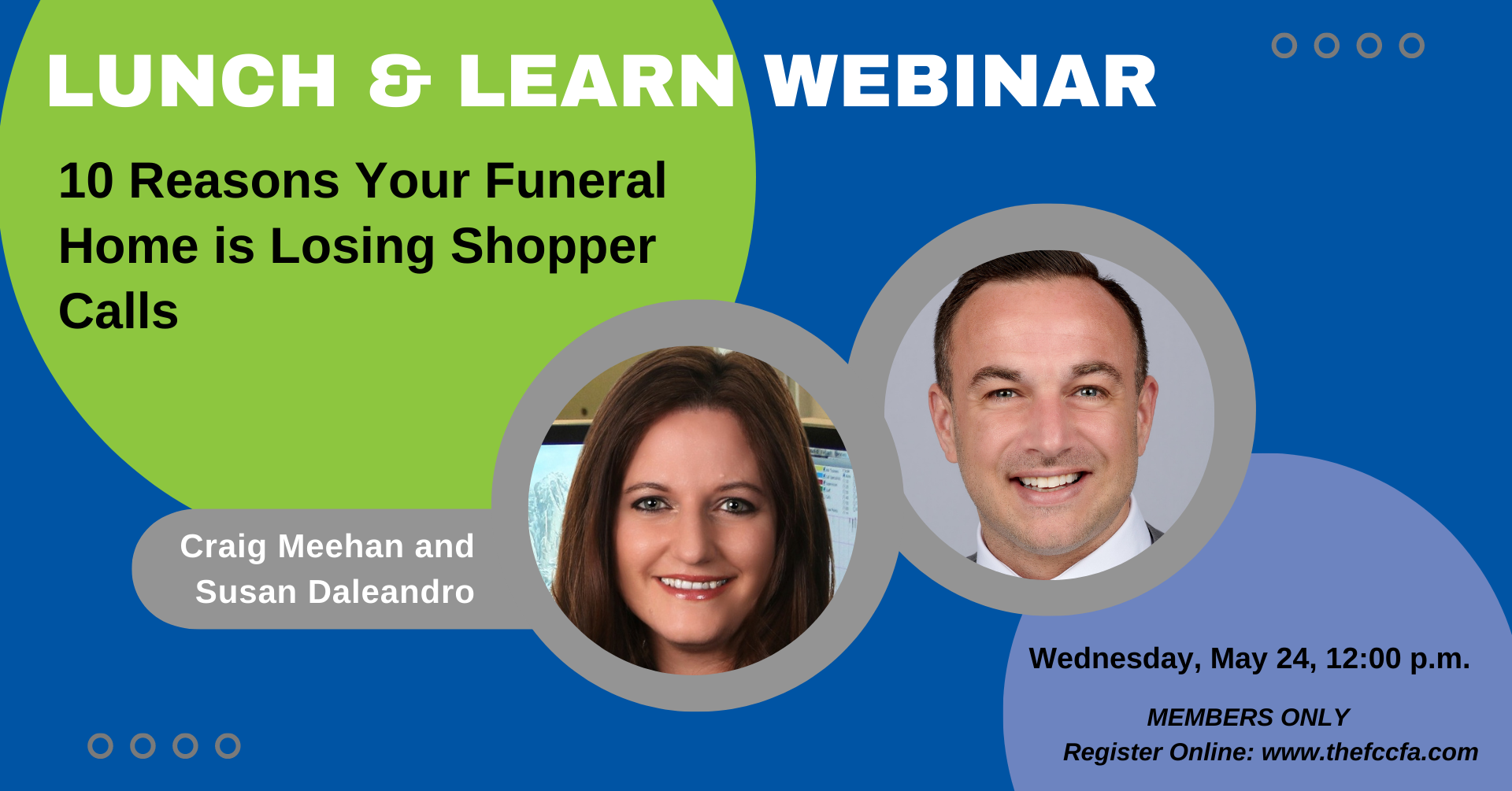 The attendees learned about being prepared in capturing potential business opportunities in the face of economic uncertainty, while the number of cost-conscious families are rising as they compare funeral service options.   The most important thing when it comes to winning over shopper callers is forming a connection and if you don't do this you will strike out.  Answering Service for Directors (ASD) informed attendees that about 20% of funeral consumers contact more than one funeral home in their time of need.  ASD explained to attendees the reasons why funeral homes are missing out on these opportunities when initially contacted and gave ways that funeral homes can combat this.
---
About the Speakers:
---
Susan Daleandro is a Strategic Account Manager and has more than two decades of experience working with funeral professionals during her tenure at ASD. Susan first joined ASD in 2001 as an Operations Supervisor responsible for providing professional assistance to the company's funeral home clients while offering guidance and support to ASD's Call Specialist team. Susan led the effort in establishing ASD's proactive customer service department (known today as the Client Solutions team). In 2015, she was promoted to ASD's Sales and Marketing team in her current role as Strategic Account Manager. Susan works closely with multi-location funeral homes to determine how ASD can meet their specific needs. She coordinates with ASD's Client Solutions and Tech teams to develop customized solutions for large groups of funeral homes across the nation.
Craig Meehan is the National Sales Manager of ASD Funeral Communications. Craig has over 15 years' experience in sales and marketing. He started his career in the Venture Capital arena, managing several companies for an equity firm. Most notable, Craig was the Marketing Manager for Petfooddirect.com (now Chewy.com) that sold to PetSmart in 2017 for $3.35 billion. The deal was the largest e-commerce acquisition in history at that time. He went on to be a technical sales consultant for companies like American Reprographic Solutions (NYSE:ARC) and Verizon (NYSE: VZ). Since 2016, Craig has been an integral part of the team at ASD. Craig is passionate about funeral service and has found his forever home in the profession.